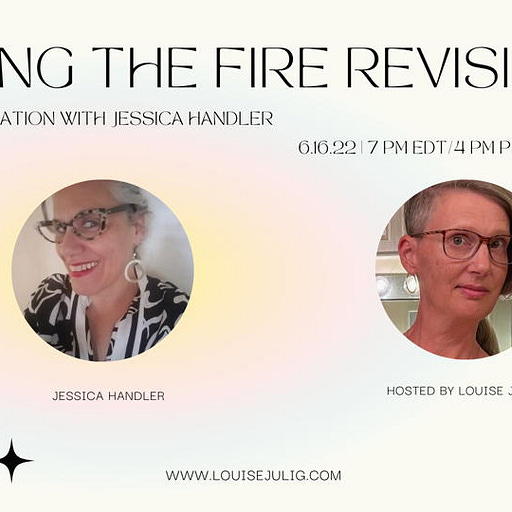 Jun 22, 2022 • 1HR 10M
Braving the Fire Revisited Recording
A conversation with author Jessica Handler
Being brave in small moments
Here is the audio from my online conversation with author Jessica Handler from June of 2022 revisiting her book Braving the Fire: A Guide to Writing About Grief and Loss.
We had a fun time talking about grief and loss writing, if you can believe that (I know you can), including Jessica giving us a writing prompt and the two of us fangirling about lots of books.
Find all the books we talked about on my Bookshop list Braving the Fire Revisited Recommended Books.
Here also is the poem Jessica mentioned, "Water" by Koleka Putuma, the clip of Melissa Febos talking with Mary Karr about "history and time," and the storytelling show Jessica mentioned that I did two years ago about buying a vibrator.
You can also view the Zoom recording of my conversation with Jessica on YouTube, but the podcast format here in Substack give you the audio option. I know I'm sometimes more likely to listen to something than watch a video if it goes over about 20 minutes.
Thanks to everyone who tuned in live, and for those who couldn't, I hope you enjoy the recording!
Find Jessica Handler's writing and other events at her website www.jessicahandler.com.
If you enjoyed this conversation, please sign up for Be Your Own Hero to get notifications of future events.
Thanks for reading Be Your Own Hero! Subscribe for free to receive new posts and support my work.